Over 175 Years Strong!
We are blessed to have a rich history, tracing our roots in Ada back over 175 years.  Read the short summary of our history below or click the link to download our full history, written by elder Tom Gossel on the occasion of our 175th anniversary celebration.
History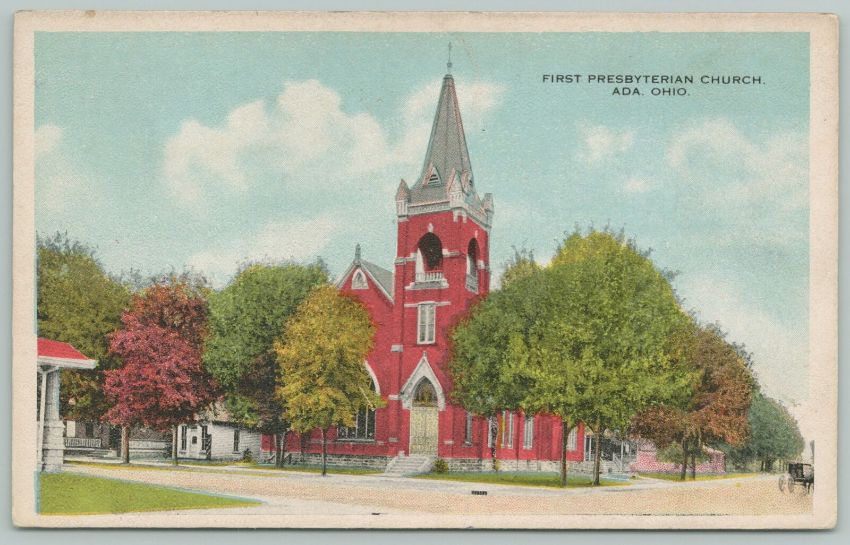 The Presbyterian Religious Society consisting of seven men and two women was founded in 1841 in the tiny settlement known as Huntersville, Ohio. Regular services were held at stated periods, perhaps not more often than monthly, since the pastor served several congregations, all widely separated owing to the sparsely populated region.  These worshipers soon transferred four miles as a crow flies to the tiny village of Johnstown, later renamed Ada.
The church took on the name Ada Presbyterian Church, and the expanding congregation began construction of a small frame building at the corner of Main Street and Mill (name changed to Lincoln Ave) near the onset of the Civil War.
A great revival was underway during the winter of 1888-1889, and the structure was no longer adequate to meet the growing congregation's needs. The building was therefore moved two blocks northwest and converted to a school. Work began immediately on a replacement brick structure and was dedicated in May, 1891. Further construction was undertaken over the next quarter century to give the church its current profile. Interior renovations and decorations were completed as needed.
Throughout the Ada Presbyterian Church's 175 years of existence, thirty pastors accepted God's call to shepherd the people of Ada and surrounding areas as well as provide for worship in the Presbyterian fashion to students attending Ohio Northern University. Our current pastor, Rev. Patrick D. Allen, has ably served since 1997.  The church partners with other congregations where appropriate through the Ada Ministerial Association, working to promote the gospel of our Lord Jesus Christ and to improve the spiritual lives of individuals in the region.
A focal point in the history of the Ada Presbyterian Church early in the new millennium was a nationwide struggle among many churches to hold fast to the faith.  Many foundational issues were now contested.  In 2012, by unanimous vote of the congregation, the church joined the Evangelical Presbyterian Church (EPC) denomination, a denomination devoted to the Reformed and Evangelical traditions of the Christian church.  Out of our relationship with this growing and vibrant denomination, the church is now well positioned for its future ministry in the community of Ada.